The winner of the momAgenda contest is:

Congratulations! Please click on the little envelop to the right and send us your address. Thank you everyone who participated in this contest. Be sure to check Saturday's post, for another great contest.
What's Up?

Multi-Tasking has been an understatement lately for this group of MTMs. We've been working on ways to make this site more beneficial for each of you while keeping ourselves on track in our own homes.

Emails and on-line chats have been extremely common this week - and we're ready to give you just a sneak peak at what fresh, new and exciting things we have coming your way.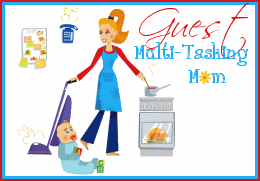 This coming week we are going to feature a Guest Multi-Tasking Mom - please check back on Wednesday to see who she is!

We also want to let you know that next month we would like to feature one of you Multi-Tasking Moms out there on our blog. We want to know how you multi-task. Please share with us your family's favorite recipe, how you schedule your day or a wonderful cleaning product you can't live without and why. (If you need more suggestions, just have a glance under our categories section.) One of you will be chosen Friday, August 31, 2007. We will post the Featured Multi-Tasking Mom on Wednesday, September 5, 2007.

Lastly, we are looking to try out a 'schedule' of weekly topics. Food on Monday, Exercise on Tuesday or maybe that should be the other way around - lol - but, you get the idea.
In addition to our weekly topics, we have decided to limit our posts on Sundays - to allow everyone to get the rest and relaxation we need to gear up for the coming week. We may offer occasional posts here and there, but not every Sunday. We all know it is important to rest as our Creator designed us to!


We hope to see you tomorrow!

Blessings,