After having a baby 3 months ago, I realized that I really need to lose weight and try to get my figure back....I'm not expecting miracles, but at least I'd like to get back to a healthy weight.

I'm glad I'm not alone, it's always nice to have support, someone to encourage and motivate you to keep you going. That's why we decided to start a new feature called Go Figure!

Every Friday we are going to share tips on exercise, weight loss and health. We'd love for you to join us and let us know what works for you.

I'm not a fitness guru or anything, but I'll clue you in on the 2 things that have always worked for me, walking and Nutter Butters water! Several years ago when I first tried to lose weight, my dear, sweet mother bought me a set of Away the Pounds tapes off of an infomercial....I know what you're thinking....well, not really, but I'll tell you what I was thinking. "Nothing works like they say it does on TV!" But since I had the tapes and no money came from my pocket, I thought I'd give it a shot....and guess what ladies, it worked!!!!

I'm not talking about 10 pounds in 10 days, I'm NOT an infomercial-LOL! It took a good 3-4 months to lose about 30 pounds, one reason I liked the tapes so much was because Leslie (the creator of "In Home Walking") wasn't FAKE!!! I did make an effort to eat healthier and drinking water was a big part of it. It wasn't easy, believe me, but I managed by the grace of God to stick with it and now I'm going to try to do it again! Are ya with me, because I have some great news!

Leslie Sansone's In Home Walking has agreed to sponsor us! That's right, they are helping us kick off "Go Figure" by donating Leslie Sansone's Walk Slim System!!!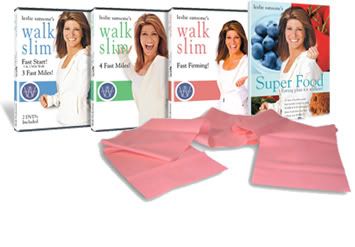 How great is that! Are you excited?! I know I am!
Now I know you are all just dying to get your hands on this, so here's what you gotta do to enter.

1. Add our "Go Figure" button to your sidebar...yep
another
button-LOL!
2. Blog about this contest and link
Leslie Sansone's website
.
3. Share a weight loss tip you know, that will help others.
*BONUS QUESTION~ READ CAREFULLY*
A. You

MUST

email us the answer! (Subject line: Go Figure Contest)
B. You can
only
look for the answer
ON HER SITE!
(No cheating, let's play fair.)

C. If you get the answer correct, your name will be entered twice. Good luck moms!!!


4. Leslie Sanson is the spokesperson for which company?
5. Don't forget to sign Mr. Linky.
The winner will be chosen next Friday....
Go Figure
;)