Exercise is a key point to losing weight and living a healthy life, but it is just as important to keep a close watch what goes inside our body too. Of course eating healthy, drinking water and making the extra effort to take vitamins helps. But, sometimes you need that little extra
something
, a little boost so to say.
Don't worry, it's not a diet pill or anything like that. What I'm about to share with you is good for your overall heath....a good old fashion remedy with medicinal purposes.
It's
Apple Cider Vinegar
! It is wonderful for so many ailments; allergies, asthma, sinus infections, high cholesterol, blood pressure, acne AND weight loss!!! Yep, it helps breaks down the fat in our body!
I know some of you are thinking YUCK! NO WAY!!!! But I personally don't think it's that bad. And the with overall benefits of it, isn't it worth it?!
There are several different concoctions for apple cider vinegar, some put it in their tea, others drink it with juice, but my personal favorite it is:
2 Tbsp
Raw Apple Cider Vinegar
2 Tbsp
Raw Honey
8 oz of cold water....no ice for me thank you
Once you start taking this you will feel GREAT! Honestly, I haven't done this since I moved so, to practice what I preach I better start repairing and
Getting MY Body in Motion
! I will join
Melodye
and all of you other out there and post my results as well.
.....Oh speaking of repairing,
Ladies Tools Online
is giving aways TWO stylish set of tools!!!
It's a Girl! 46pc Tool Set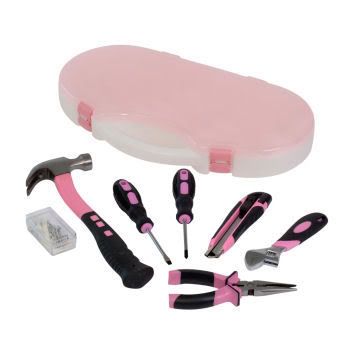 and
It's a Boy! 46pc Tool Set
Let's face it ladies, the men can't
always
do the handy stuff around the house, so if we have to do it, let's do it in STYLE!!!!
Each set contains a comfort grip: hammer, slotted screwdriver, Phillip's screwdriver, adjustable crescent, needle-nose pliers and snap off knife. Plus, there's an accessories box with screws (8), wall plugs (8), nails (25), and picture hangers (5). All of these fabulous items comes in a durable plastic matching case!
To enter:
1. leave us a comment letting us know if you want the
PINK
or
BLUE
2. spread the word and please add a link to
this post
and
Ladies Tools Online
(this contest is open to those of you who don't have a blog too, but please spread the word)
3. come back after you've posted and sign Mr. Linky
And CONGRATULATIONS
Karen
, you are the winner of
last week's Go Figure contest
!!! Please send us your addy:)